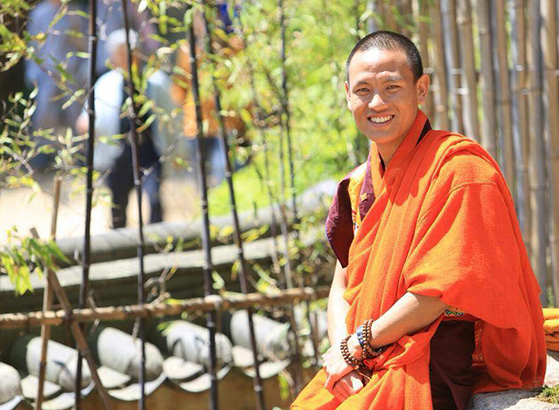 Monla Khedrup Rinpoche Ugyen Tenzin Thinley Lhendup (also referred to as Khedrupchen Rinpoche) was recognized and enthroned as the Fifth successive reincarnation of Kyabgon Khedrupchen Jigme Kundrol who was an illustrious heart son of Rigzin Jigme Lingpa.
Read a detailed account on Rinpoche's lineage and previous incarnations here.
Rinpoche graduated from Ngagyur Nyingma College, Dehradun, India in 2014. Even before the completion of his studies, the Rephel Mindrol Lhakhang monastery in Trongsa was offered to him by the local community as it was on the verge of collapsing and the community had no means of supporting it.
Since then Rinpoche has been taking full responsibility of the monastery and renamed it Sangchen Ogyen Tsuklag Monastery, recognizing its historical importance which was linked to many former incarnations of Khedrupchen Rinpoche.
He has been working tirelessly to uphold this historical monastery founded upon by the Bhutanese consort of Guru Rinpoche Monmo Tashi Khyidren.
Khedrup Jigme Kundrol (The First)
Khedrup Jigme Kundrol was an emanation of Nyang Tingzin Zangpo and Gyelwa Chogyang. He was was born in the year 1730 at Wang DarLungkha (Thimphu) Bhutan as Jangchub Gyaltshen (Byang chub rGyal mTshan).
At an early age, he was admitted in Trongsa Choekhor Rabten Tse Dzong as a Toze where he studied traditional Buddhist education for few years and was eventually appointed as the Supervisor of meals in the Dzong. This task inflicted a great deal of pain on him and he submitted his resignation due to the non-vegetarian food that was prepared in the dzong but instead, he was promoted as the Chief of Meat Management. After few years of constantly trying to resign and being denied, he decided to flee the Dzong.
Jangchub Gyaltshen fled to Lhasa and became a monk at Ugyen Mindroling (Orgyen sMin Grol gLing) for a short period of time. During his time there, he heard about Rigzin Jigme Lingpa who was residing at Samye, Chimphu (bSam Yas Chims Phug) and visited him. He vowed to the Guru and dedicated his body, speech and mind to practice the Dharma diligently. The Guru accepted him as a disciple and taught Jangchub Gyaltshen all the Sutras and Mantras.
He was then renamed Jigme Kundrol (Fearless and liberation for all). Khedrup Jigme Kundrol meditated on every Tantra and was able to achieve the Siddhi by visualizing the deities in real and in his dreams for 18 years in isolation. He completed Sadhana, chants and meditations of the retreat courses.
Khedrup Jigme Kundrol's return to Bhutan
Kunkhen Jigme Lingpa had directed Khedrup Jigme Kundrol to travel to Lho mon Men Jong, where the shape of the mountains were like huge copper pots put upside down and the triangular shaped foot hills signifying the holy place of Vajra Kilaya. The prophecy said that his settling there will dispel the warriors of Kamarupa, which would later prove to be of utmost significance in the history of Bhutan.
Obeying his Master's prophesies, Khedrup Jigme Kundrol traveled south crossing the huge mountain range of Monla Karchung to Thowa Brag, Bumthang where Bhikshuni Sri, an ancient famed nun Gelongma Palmo had blessed the place.
During his stay there for some years, he learnt the Treasure Dharma of Treasure Revealer Dreme Lingpa from the dharma lineage holder Pedtseling Drupthop Namgyal Lhundrub and practiced diligently.
Then, he moved to Ura Wangthangla where he found a place similar to the one prophesied by his master. Yum Ka Dechen Gyalmo or the Queen of Great Bliss came to him in a vision and re-instructed the master's prophecy.
Traveling further to Yongla, the Dakinis and Deity's of the place manifested to birds to receive him. The birds flapped up and down (Yong Yong) which means "correct". So the monastery came to be known as Yongla. He settled in Yongla and taught the people in the locality.
Notable contributions of Khedrup Jigme Kundrol
Of his many noble acts from subduing deities to teaching the Buddha Dharma, Khedrup Jigme Kundrol is most prominently remembered for his contribution towards the sovereignty of Bhutan.
During his stay in Yongla, Dungsam Jadrung Khangma Namgyal was ruling in the province and the British invasion was nearing into the border.
After a lot of deliberation with the central government, Jadrungpa decided to declare war to protect the land from British Invasion but worried due to the weak military strength. With that worry in his mind, he along with Trongsa Penlop Jigme Namgyel visited His Omniscient Khedrup Jigme Kundrol since he was one of the main masters of Jadrungpa. Khedrup Jigme Kundrol recollected the prophesy of his master to bring peace in the region and decided to intervene. He prepared the sadhana of Kila according to Tantric tradition for seven days and did the Torjab (gTOR rGYAB) in the direction of the British invasion. It is believed that on that night, a huge serpent appeared and destroyed most of the warriors and the remaining soldiers returned to their own territory, successfully warding away the enemy.
Jadrung reported the situation to the Central government of Bhutan. The Government consisting of Desi and Central monk body awarded Khedrup Jigme Kundrol the title of Higher Respected Lama in the three region of Dungsam. The appointment was celebrated by enthroning him as the head Lama of East Dungsam Dosum.
Among his disciples, Dungse Deleg Wangchuk, Ngagchang Tenpai Gyaltshen and Kudrung Dorji Gyamtsho were the most popular.
He handed over the seat to Kudrung Dorji Gyamtsho and passed away in 1793.
Khedrup Jampel Dewai Nima (The Second)
There-incarnation of Khedrup Chenpo Jigme Kundrol was born in 1796 in Toe in Tibet to a generation of great Indian Buddhist master called Pha Dampa Sangye at Phadruk, province of Dingri. He was called Jigme Phendey Woezer.
As a child when he was just learning to speak, he spoke of his past life and narrated thoroughly about the late Jigme Kundrol. He was recognized by Dola Jigme Kelzang, one of the most important student of Dodropchen Jigme Thrinley Ozer.
At the early age of about seven, he travelled to Kham and was killed on the way.
Khedrup Togden Tshering (The Third)
The third incarnation Khedrup Jampel Dewai Nima was born to Drubwang Dongag Drakpa's family lineage, who was believed to be the ancestors of the great prince of Tibet Lhasey Tsangma.
He settled at Phagjud Gonpa and established a retreat centre and monastery for lay monks. He taught mainly on the Longchen Nyingthig and Peling tradition. He spent most of his life in retreat and was hence called a Tshampa (a retreat master). He subdued many demonic spirits and benefited numerous beings and promoted the teachings of Buddha largely.
Khedrup Phajo Sangye Dondub (The Fourth)
Although the mind is realized in Dharmakaya, to fulfil the aspirations of previous reincarnations, the fourth Khedrup Phajo Sangye Dondub was born in 1904 to Sangye Gonpo and Namgyal Lhamo in the remote village of Momring under Shingkharong, Eastern Bhutan to the family lineage of Drodpo Choeje the descendent of Terton Pema Lingpa. Due to the merits of his previous incarnations, he was known to possess deep compassion and generosity for everyone around him.
Geshe Tshewang Jamtsho taught Khedrup Phajo Sangye Dondub from basic alphabets till the inspiration of Dzogchen Ati yoga. He visited the mountains of Phuthung, Chenla, Nyechen Dechen Bumpa among others and meditated till he attained realization. For the benefit of the beings, he practiced astrology from Lopen Thinley and came to be known as Lama Phajo. His compassion for others was so heartfelt that it was often compared to the love that a mother feels for her only child. He used to carry the materials needed for performing puja for those who could not afford it.
Before he passed away in 1978, he prophesized exactly to whom he will be reborn to.